Description
USB Desktop Aquarium – Mini Fish Tank With Running Water, Pebbles and LED Light – Black
Features:
Creative design, multi-functions, and reliable quality.
Mini fish tank with running water (recirculation).
The water stored in the fish tank can be running circularly that fresh air can be provided for the fishes living in the fish tank.
Hold about 1.5L of water.
Come with decorative pebbles, an artificial plant, and a USB connector.
Adjustable overhead LED light and multicolor LED interior lights underwater.
2 switches are used for turning on/off the LED light and switching the water pump on/off.
6 modes of tranquil nature sounds, like sounds of frogs, sounds of bird, sounds of water, etc.
The backlighting LCD display is featured with alarm clock, calendar, time, date, temperature, and snooze.
Dual compartment desk organizer or pen holder for setting pens, rulers, etc.
A great unique and unusual gift for your friends.
Note: the moving water is powered by USB power. It will be running after you connecting the USB cable
Specifications:
 Color: Black
 Material: Plastic(main) and Metal
 Batteries: USB or 3 * AA batteries (not included) for LCD
 USB Power: DC 5V for the Fish tank's pump and lighting
 LED light: 6 white LEDs and 2 color-changing LEDs
 LCD display: Clock, Calendar, Alarm, Temperature
 Sounds: sounds of frogs, sounds of bird, sounds of water, etc
 Item size: 24 * 14 * 10 cm (approx.)
 Item wight: 705g
 Package size: 27.5 * 21 * 13.5cm
 Package wight: 991g
Package including:
 1 * USB Desktop Aquarium Fish Tank
 1 * USB Cable
 1 * User Manual
 1 * Pebbles
USB Desktop Aquarium – Mini Fish Tank With Running Water, Pebbles and LED Light – Black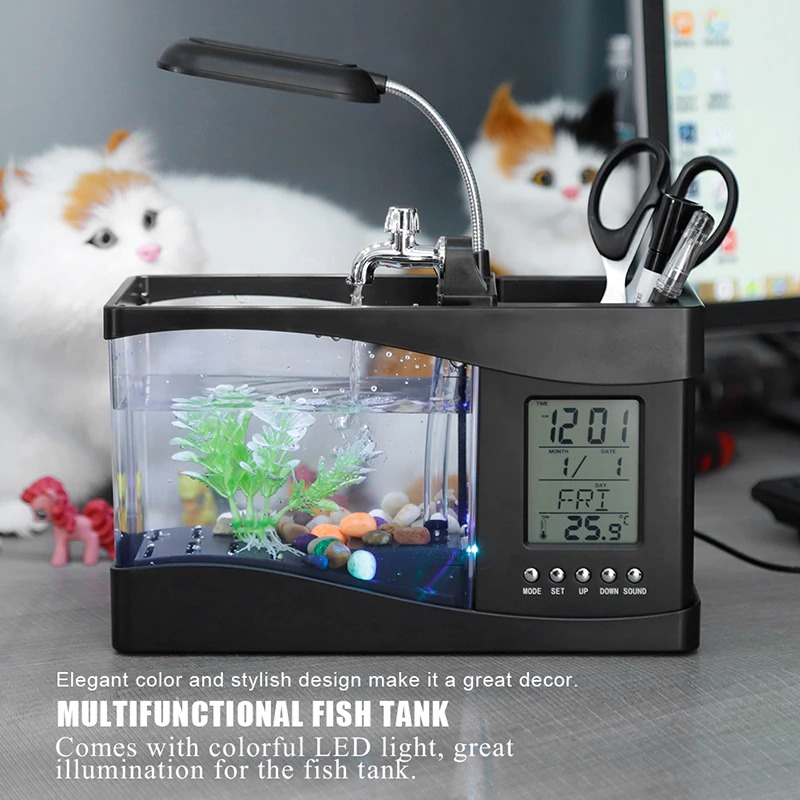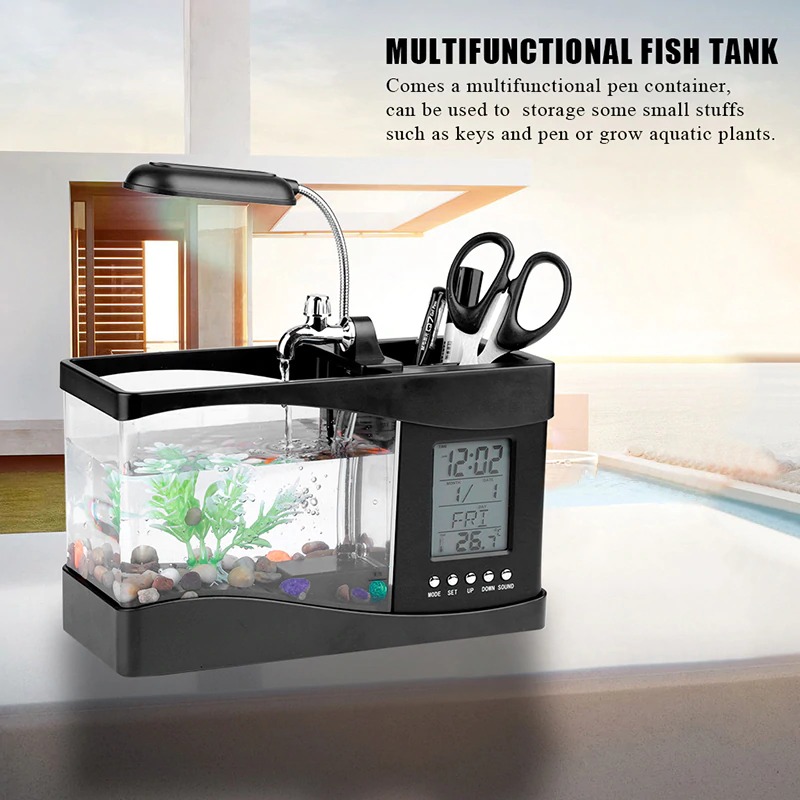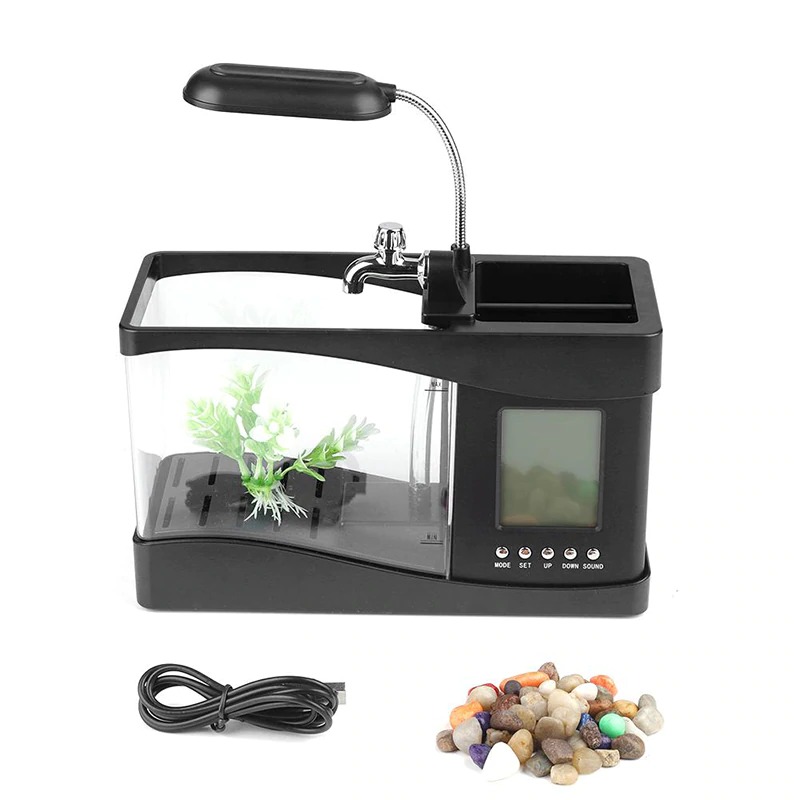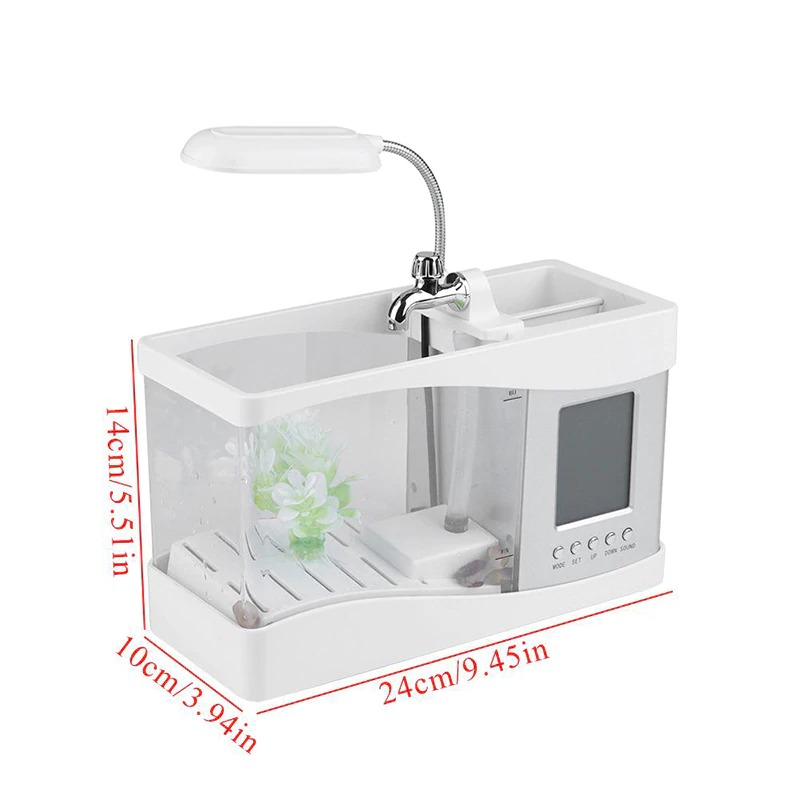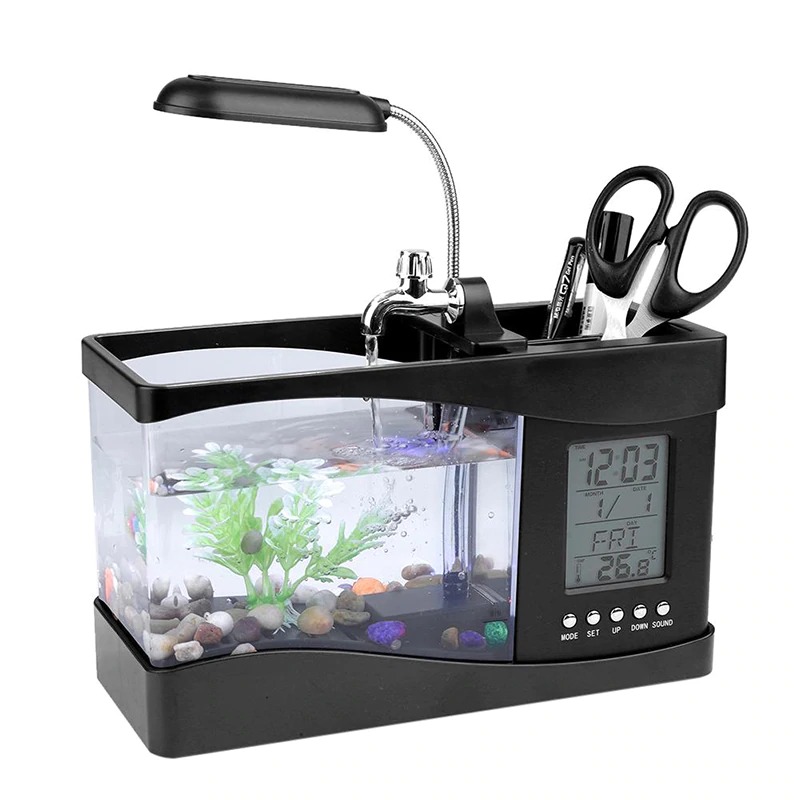 USB Desktop Aquarium – Mini Fish Tank With Running Water, Pebbles and LED Light – Black