Description
Sonoff TH16 Wi-Fi Smart Switch with Temperature and Humidity Monitoring
【Automatic RH/Temp Control With Time Period】Connect TH with a Temperature/Humidity sensor to monitoring the value, and automatically turn on/off the device to provide you a suitable temperature and humidity.
【Easily DIY Your Smart Home Appliances】Connect TH directly to the middle of the power supply and the appliance which needs the feature of temperature and humidity control to quickly make your ordinary appliances smart without buying a new smart one.
【Fully Functional】TH has all the most basic functions, like remote APP control, LAN control, timing schedule, share control, etc.
【Smart Scenes】Trigger other smart devices when the temperature and humidity reach the threshold value or the device switches on or off.
【Voice Control】Compatible with Amazon Alexa, Google Assistant, SmartThings, and Alice. Just speak out your command, the smart device can do on/off as you say, and check the temperature and humidity for you.
Additional information
| | |
| --- | --- |
| Input voltage | 100~ 240V AC |
| Input current | Max 10A /15A |
| Max. Power | 2200W(10A) /3500W(15A) |
| Humidity | 5%-90%RH, Non-condensing |
| Operating Temperature | 0ºC-40ºC(32°F-104°F) |
| Wireless Standard | 802.11 b/g/n |
| Security Mechanism | WPA-PSK/WPA2-PSK |
| Enclosure Material | Fire-retardant ABS V0 |
| Dimension | 114*51*32 (mm) |
| Supported temperature, humidity sensors | Si7021, AM2301, DS18B20 |
| Switch Channel | Single |
| DIY Mode | No |
| Works With | Amazon Alexa, Google Assistant, Samsung Smarthings, Yandex Alice |
| Certified Compliance | CE, RoHS, FCC |
Sonoff TH16 is a wireless temperature and humidity monitoring switch that can remotely monitor and set temperature and humidity ranges to turn on/off connected appliances through the iOS/Android APP eWeLink. Just as the name indicates, the Sonoff TH temperature and humidity monitor device supports maximum current supply specifications: 15A.
Sonoff TH16 remote temperature monitor and wireless humidity monitor WiFi switch supports presetting the range for temperature or humidity. When the temperature or humidity of your home environment falls within the range, it will automatically turn on or off the connected devices.
Sonoff TH16 supports four kinds of temperature monitor and humidity monitor sensors, mentioned below:
Si7021 Highly Recommended!
The sensor should be plugged into the smart switch before power-on. It is not advised to plug or unplug the sensor after power-on. DS18B20 is waterproof, which can only measure temperature. Other sensors can measure both temperature and humidity.
With the eWeLink app, users can create a simple conditional statement (Smart Scene) to trigger on/off other smart devices.  This means users can use Sonoff TH16 with Si7021, AM2301, DS18B20 to detect temperature/humidity, and then set specified temp. or hum. ranges as conditions to trigger on/off other smart devices in the same account, such as Sonoff BASICR2, BASICR3, RFR2, RFR3, Sonoff SV. This device works perfectly with an electric fan, air conditioner, humidifier, smart fish tank, watering system, etc.
The sensor extension cable can connect the SONOFF temperature and humidity sensors to extend your devices to a distance of 60m, suitable for SONOFF DS18B20, Si7021, and AM2301 temperature & humidity sensor. AM2301 can be extended to 60M, DS18B20 can be extended to 8M, SI7021 can be extended to 60M.
Sonoff TH16 Wi-Fi Smart Switch with Temperature and Humidity Monitoring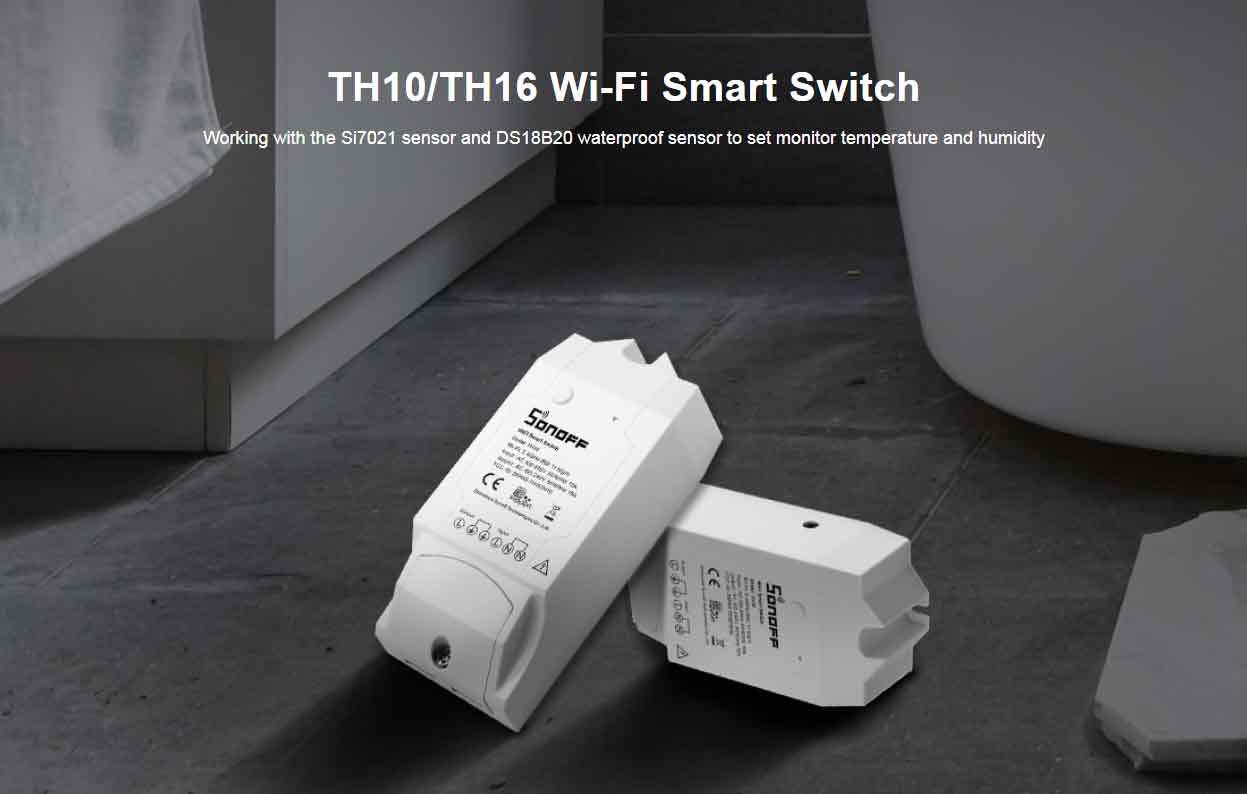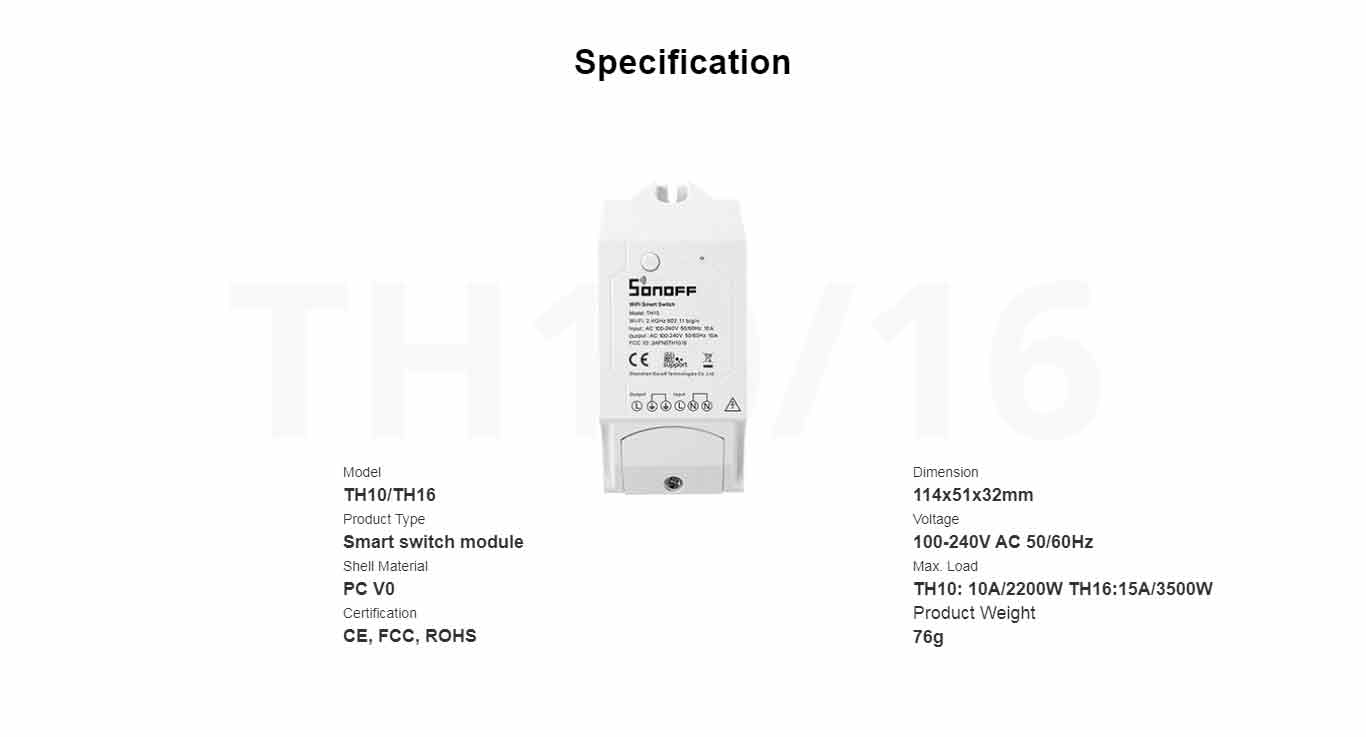 Sonoff TH16 Wi-Fi Smart Switch with Temperature and Humidity Monitoring