Description
Digital Satellite Finder SF-95DR Meter Satlink Receptor TV Signal Receiver Sat Decoder Satfinder Compass LCD FTA Dish
Digital SF-95DR Meter Satlink Receptor Satellite Finder TV Signal Receiver Sat Decoder Satfinder LCD Display
Features:
-In-Line IF signal strength meter,75Ω connector,Built-In light & electric buzzer. Built in Compass;Ideal for satellite installations or to re-point your satellite dish.
-SF-95DR has a blue back light to allow use at night. The signal meter never needs to be recalibrated nor does it need complicated programming.
-ATT increasing key. If the incoming signal is too strong, (the thermometer-scales shows max and the signal strength value shows 99) it can easily be attenuated by enabling this "attenuation" function, it reduces the incoming signal to a lower level.
-There are four step attenuation totally. Built-in amplifier compensates insertion loss. Use LCD to display the satellite signal intensity.
-It automatically recognizes the LNBF frequency and works with any C band, Ku band, or Ka band satellite. No need to input transponder frequency, symbol rate, or polarity. This meter is truly plug & play.
Descriptions:
With electronic buzzer
Sensitive meter for in-line use; pocket size and light weight
Powered by the receiver, nice tool for campers.
Specifications:
Model: SF-95DR
Color: blue
Material: plastic
Size: 130*65*27mm
Frequency Range: 950-2150MHz
Input level Range: -40~-10dBm
Impedance: 75Ω
Gain: ≥10 dB
Power Supply: 13-18V DC
Operating Temperature: 0~40°
Notes:
Please allow 0-2mm error due to manual measurement, thanks for understanding.
Due to the difference between different monitors, the picture may have some different to real color of the item. Please understand, thank you
Package included:
1 x Digital Satellite Finder
Digital Satellite Finder SF-95DR Meter Satlink Receptor TV Signal Receiver Sat Decoder Satfinder Compass LCD FTA Dish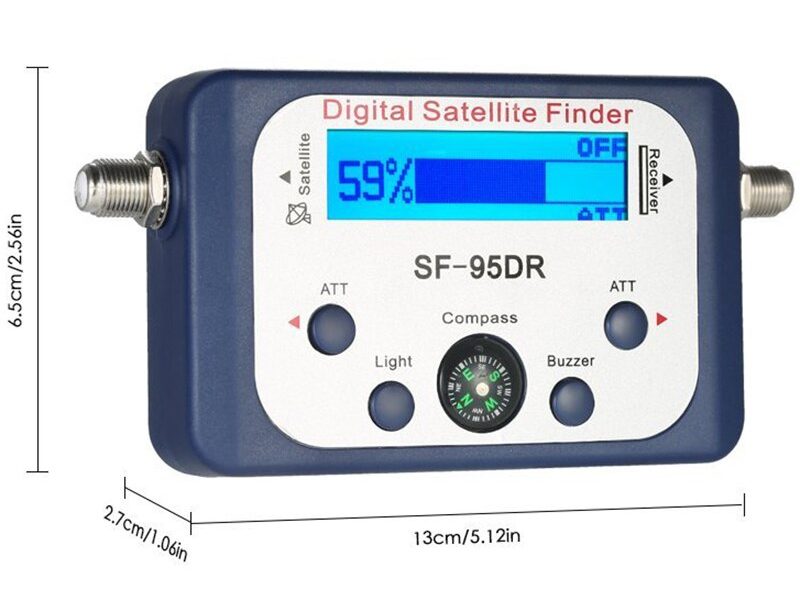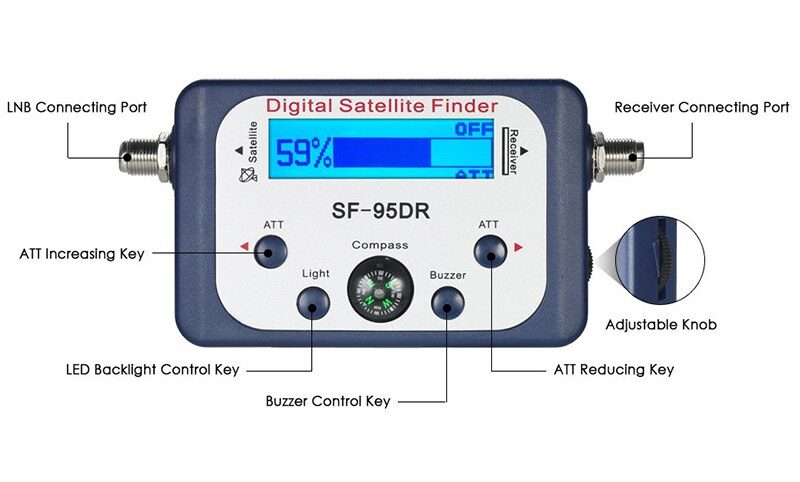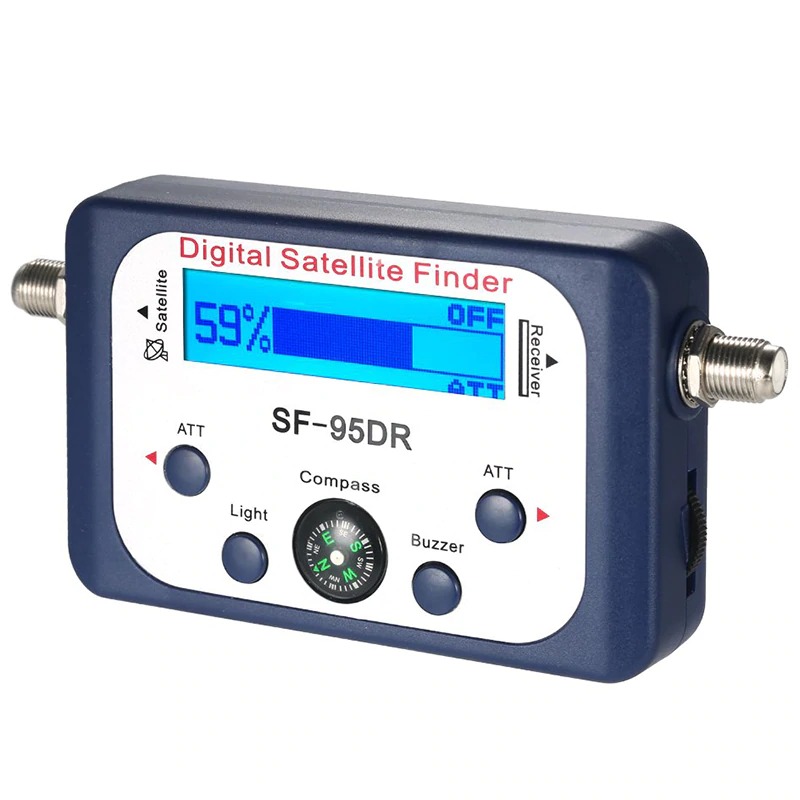 Digital Satellite Finder SF-95DR Meter Satlink Receptor TV Signal Receiver Sat Decoder Satfinder Compass LCD FTA Dish