Description
PULUZ Photo Studio Light Box Portable 60 x 60 x 60 cm Light Tent LED White Light Dimmable Mini 36W Photography Studio Tent Kit with 6 Removable Backdrop (Black Orange White Green Blue Red)(UK Plug)
Features
1. Helpful photo studio: This photo studio light tent is designed for photographers or those who want to take professional pictures but do not have complex equipment.
2. It is easy to install with the help of hook loop fasteners, no tools required and you can set up it within 1 minute, special fold-storage design, do not need extra packages, for carrying
3. 2 LED strip: Built in 2 high-quality LED strips, the photography studio helps you to take premium photos, 5500K LED lights can soften and reflect lights, eliminate glare and spots for great shooting.
4. Multi-angle shooting: Portable lightbox is designed to meet your different demands that shoot items from different angles, the front window supports a horizontal shooting and the top hole supports a 90 degrees vertical shooting, you can take clear pictures in white background with different devices such as for iPhone, smartphones, cameras or professional cameras.
5. Practical and portable: The mini studio is portable because of the fold-storage design, the size is 60x60x60cm, great for taking pictures for small objects such as toys, jewelry, watches, headphones, pens, dishes, cookies, etc, it is also an awesome gift for photographers, bloggers, and artisans who want to present their works.
Specifications
1. Material: Nylon Cloth
2. LED Quantity: 2 x 60 PCS
3. Lumen: 2 x 1690LM
4. Color Temperature: 5500K
5. Power Supply: Input: AC 110-240V 1.3A; Output: 12V 3A
6. Power: 36W
7. Size: 60x60x60cm / 24x24x24inch (Unfolded), 60x60x2.8cm /24x24x1.1inch (folded)
Package List
1. Main Studio Box x 1
2. Black backdrops x 1
3. White backdrops x 1
4. Orange backdrops x 1
5. Blue backdrops x 1
6. Red backdrops x 1
7. Green backdrops x 1
8. Light board x 2
9. Soft cloth x 1
10. Power supply x 1
11. User manual x 1
12. Small holder x 1
13. Mobile phone clamp x 1
PULUZ PU5060 60cm Folding Portable White Light Dimmable Photo Lighting Studio Shooting Tent Box Kit with 6 Colors Backdrops (Black, Orange, White, Red, Green, Blue)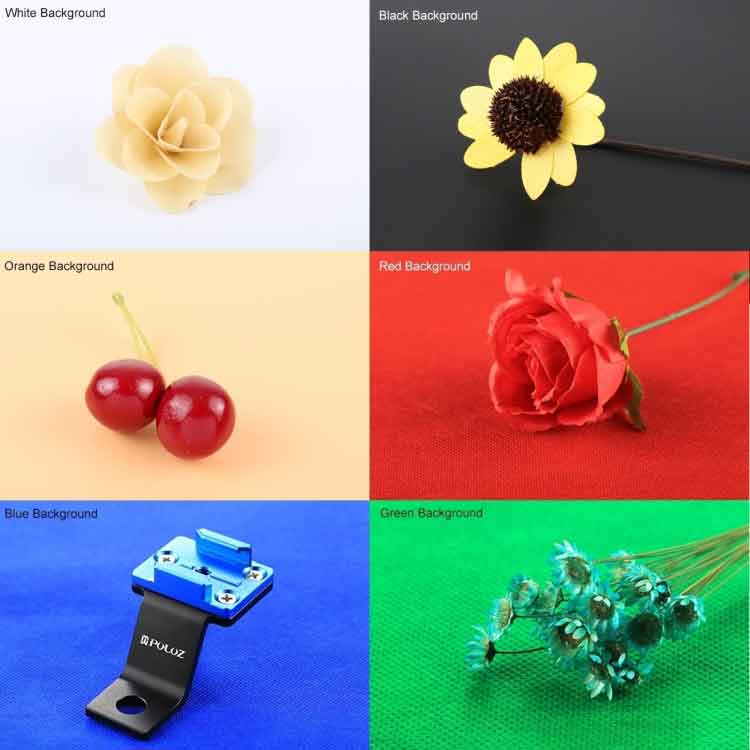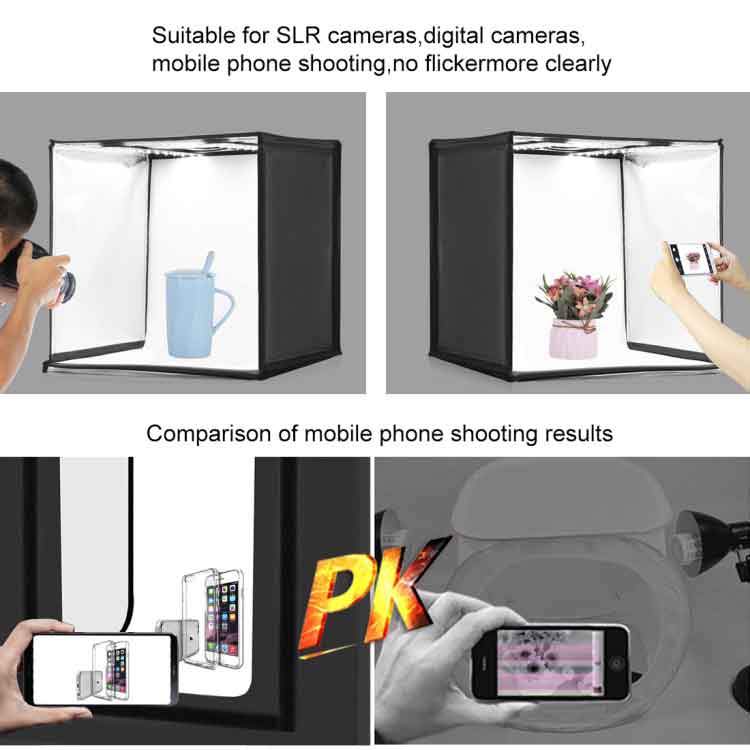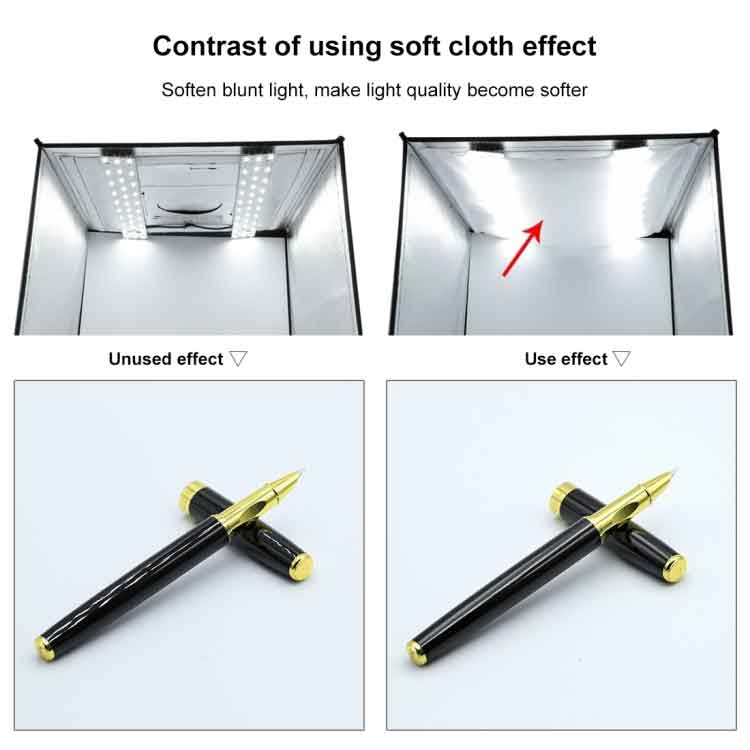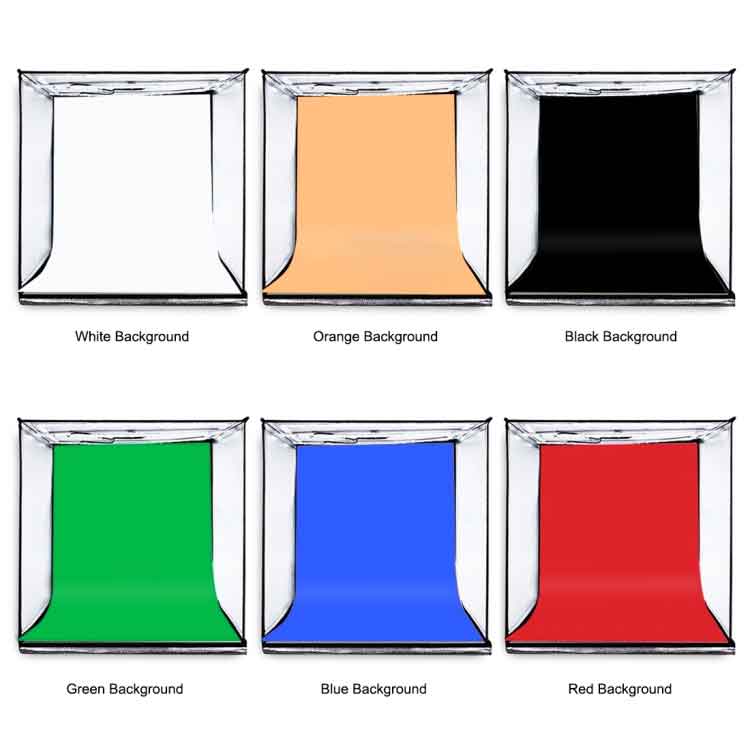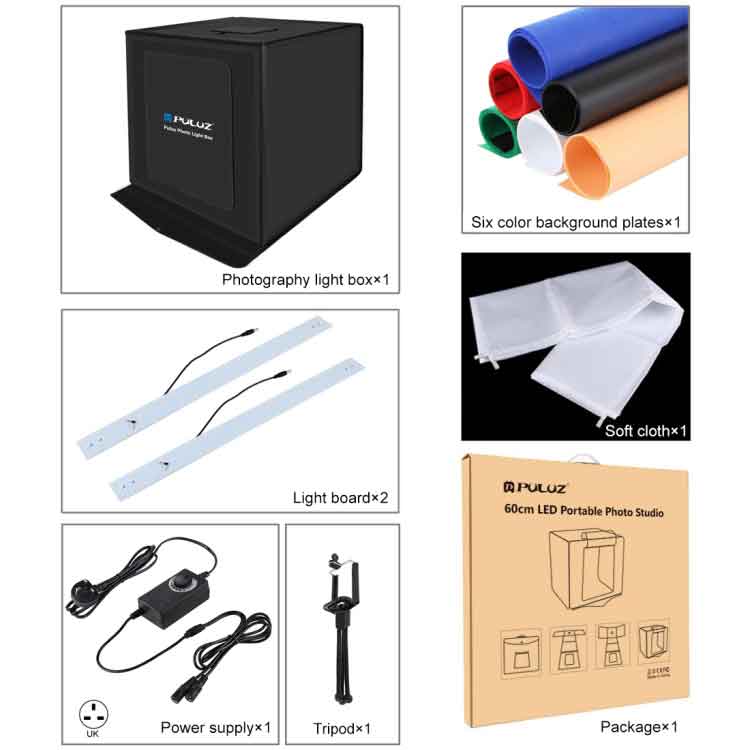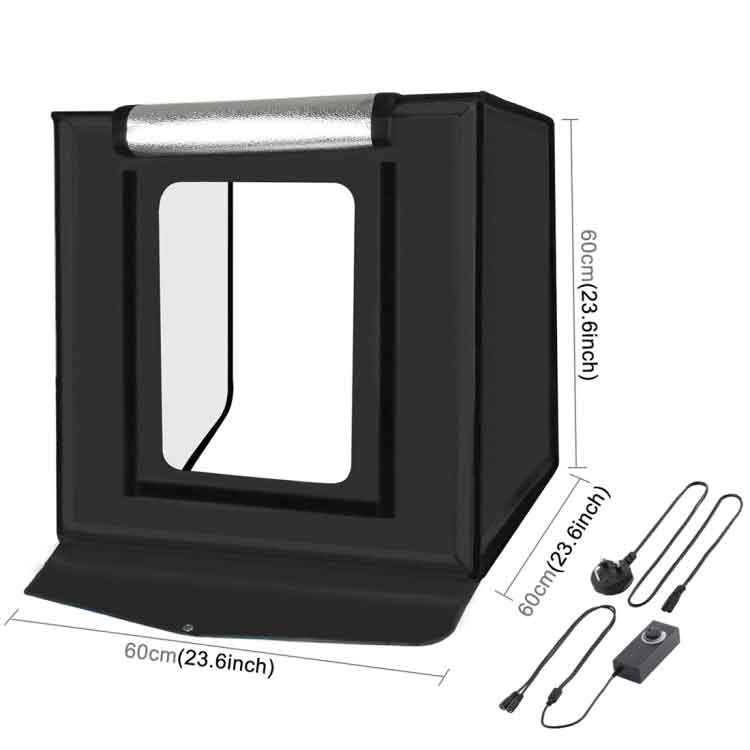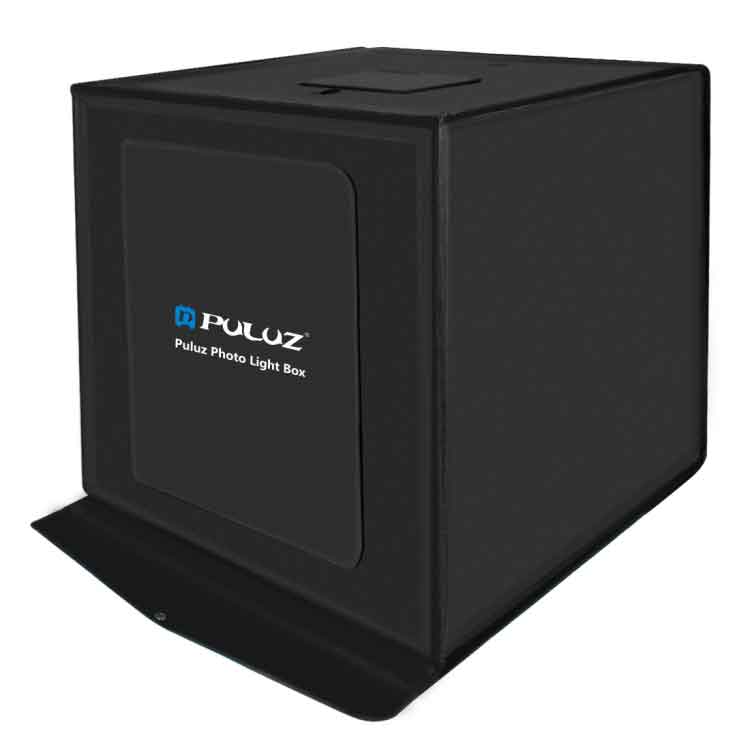 Puluz PU5060 60cm Photo Studio – Photo Shooting Tent Box Kit