Description
iBRAVEBOX V9 Finder Digital Satellite Finder Signal Meter DVB-S/S2 H.265 FTA 3.5 inch LCD Built-in 3000mAh Battery Sat Finder
Function 1: Satellite Finder for DVB S2 
Function 2: Adjust the best angle of IP Camera
System Capabilities: full HD DVB-S/S2 & H.265 compliant, fully DVB compliant, live FTA digital picture and sound.
PAL/NTSC: automatic PAL/NTSC conversion.
Favorites: 8 different favorite groups selection.
OSD Language: English\German\French\Portuguese\Spanish\Italian\Russian\Turkish\Polish\Arabic
\Farsi\Espanol\Deutsch.
Channels:
Channels Number: 6000 channels TV and radio programmable, with channel classification function.
Channel Search: Channel search in automatic, manual, and network search.
Channel Edit: various channel editing function(favorite,move,lock,skip,delete,rename,find,sort)
Save Channel: Automatic save for the last channel.
Material: ABS
Panel Display: 3.5 inch LCD
Output Interface: LNB IN*1, DV OUT, AV OUT, AV IN, USB, power supply
H-M-Interface: H-Multimedia-I(up to 1080P) output
Battery: 3000mA li-ion battery
Power Supply: DC12V/1500mA (input 100V~240V, 50/60Hz)
LNB/TUNER INPUT:
Connector: F type, male
Frequency Range: 950MHZ-2150MHZ
Input Impedance: 75Ω
Signal Lever: -65dBm~-25dBm
Active Ant Power: 13/18V DC @ 400mA MAX, overload protection
LNB Switch Control: 22KHz
DiSEqC: Ver 1.0/1.1/1.2
DEMODULATOR:
Front end: QPSK(S);QPSK,8PSK,16APSK,32APSK(S2)
Modulation Range: 2Mbps~45Mbps
SCPC and MCPC Capable: Yes
Spectral Inversion: Auto conversion
SYSTEM RESOURCE:
Flash Memory: 64Mb serial flash
DDR3 Memory: 1GB DDR3
Display:
OSD Color: 3.5 inch LCD color screen with 16-bit OSD with anti-flickering.
Support AV in and AV/H-MI out function.
Support 13V / 18V / LOCK status panel LED display directly.
USB:
Soft Upgrade: software upgradeable via USB.
Easy Menu: plug and play installation, with an easy to use Menu System.
Li-ion Battery: 3000mA lithium-ion battery normal work up to 4 hours, and supports battery power display.
Package List:
1 * Digital Satellite Meter
1 * AV Cable
1 * Car Charger Cable
1 * Adaptor
1 * Carrying Bag
1 * Manual
iBRAVEBOX V9 Finder Digital Satellite Finder Signal Meter DVB-S/S2 H.265 FTA 3.5 inch LCD Built-in 3000mAh Battery Sat Finder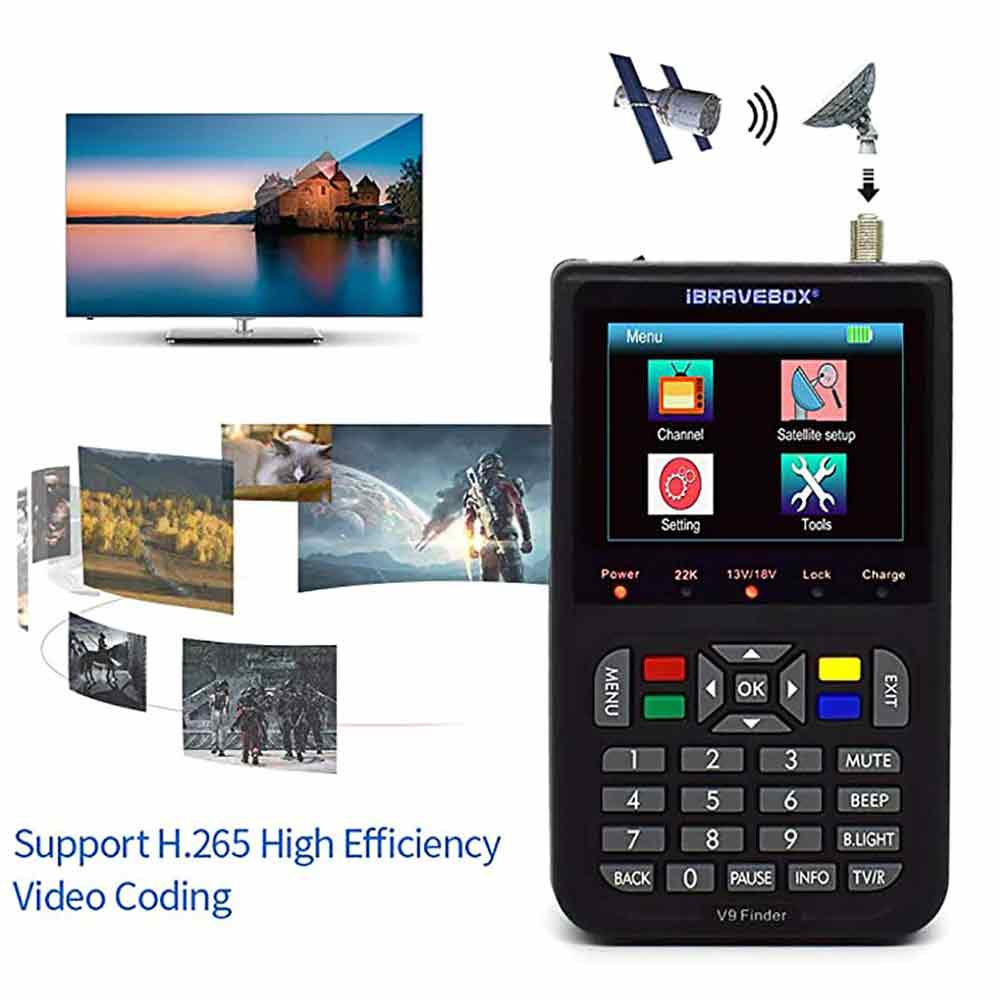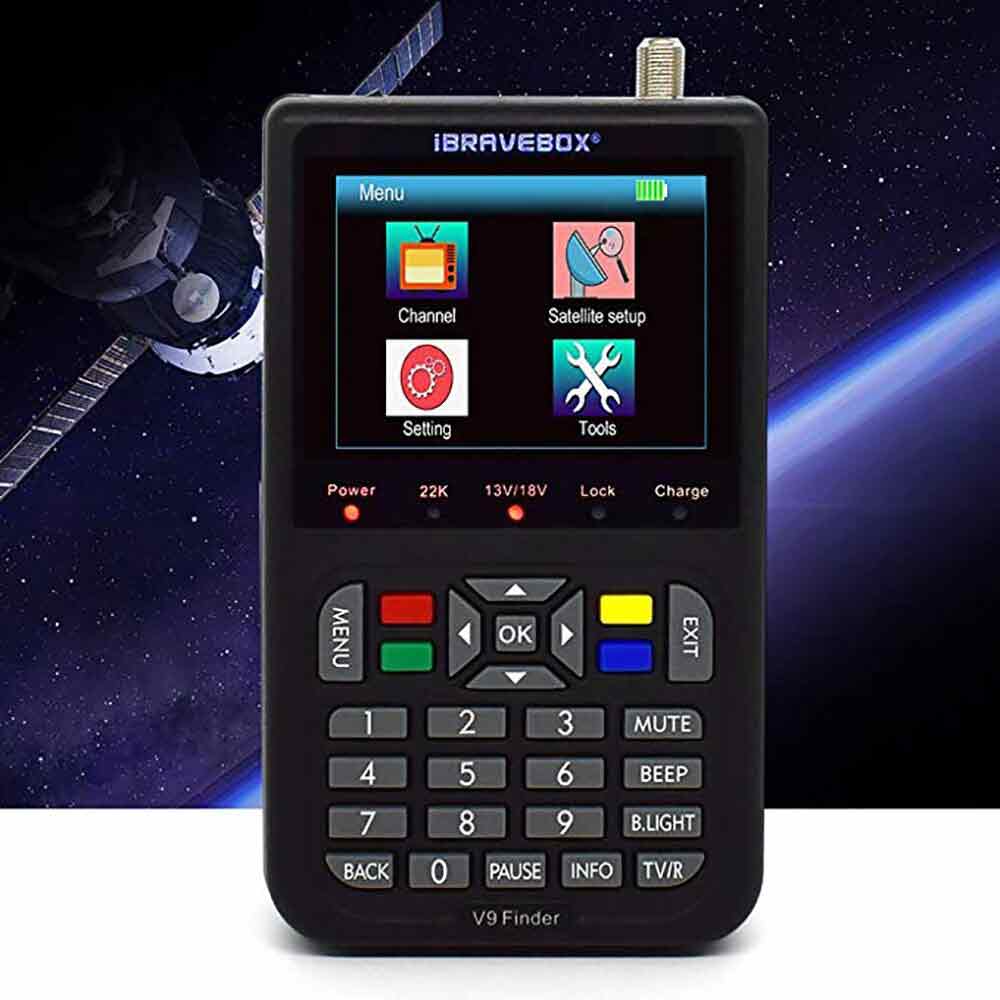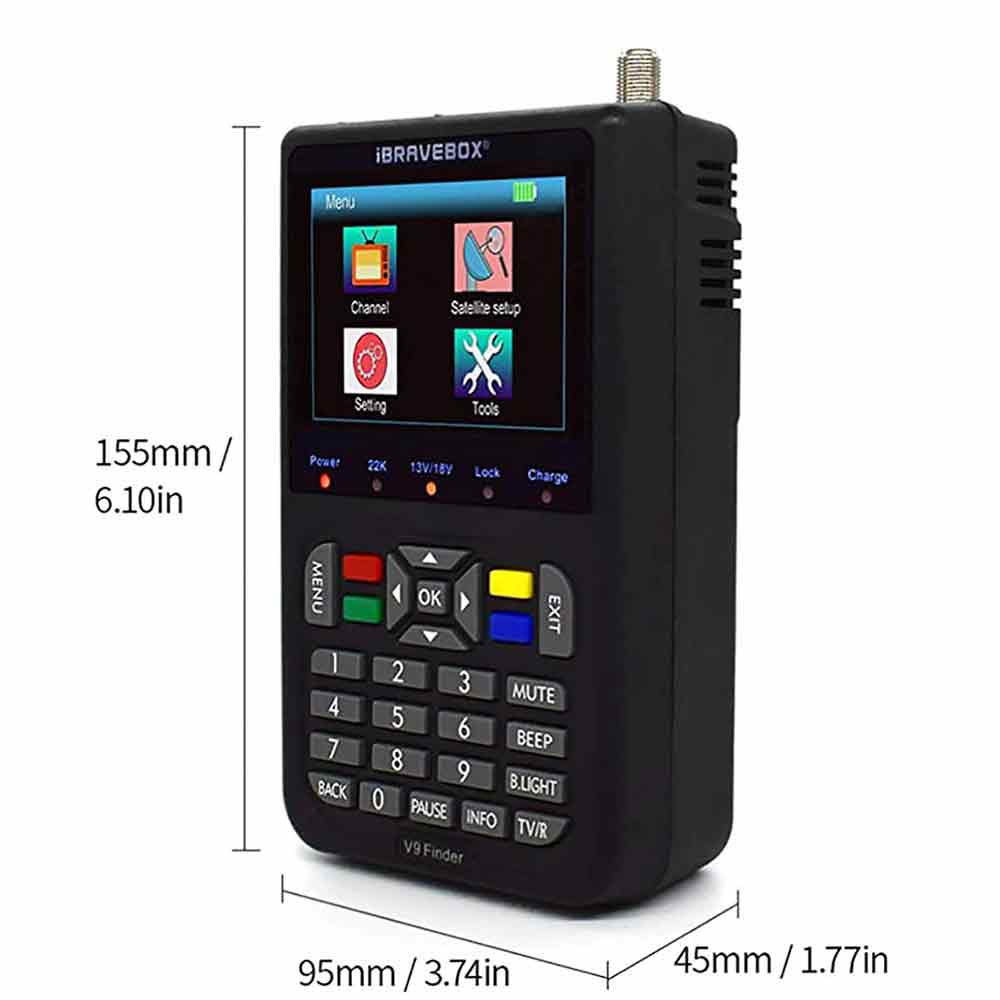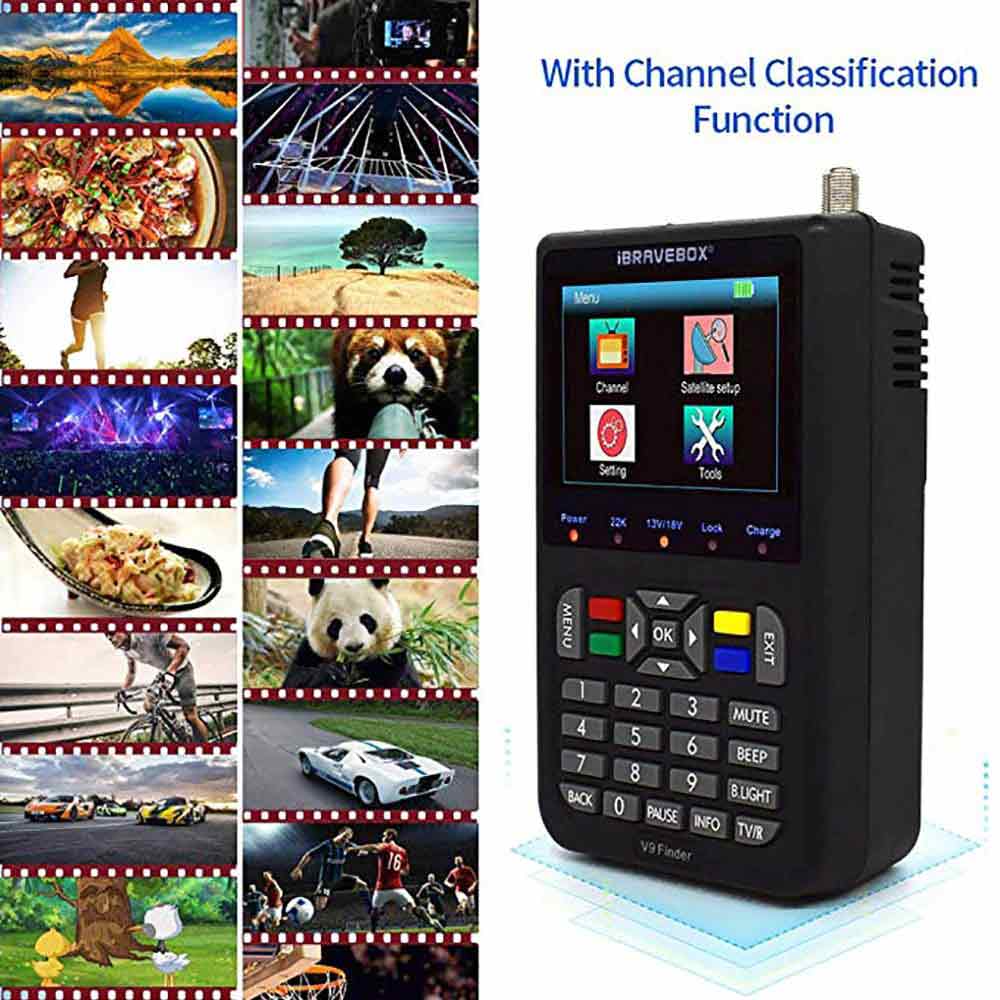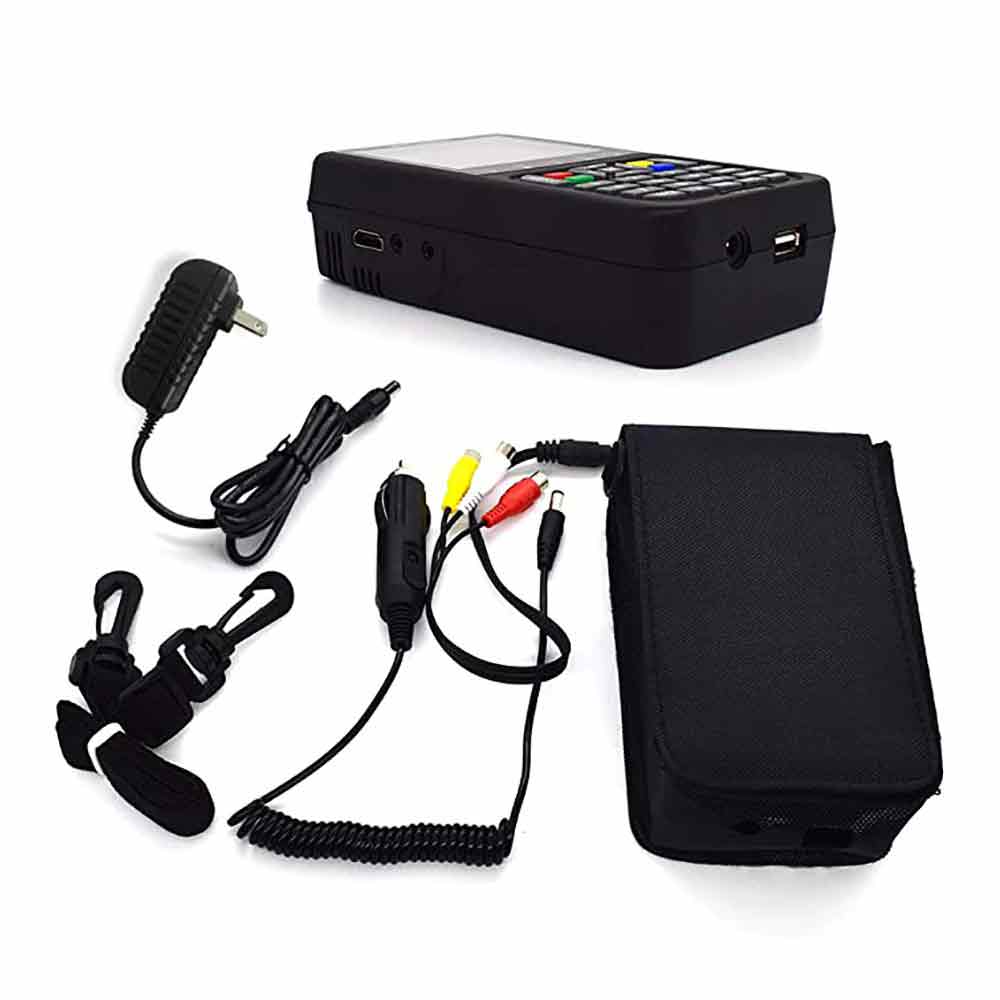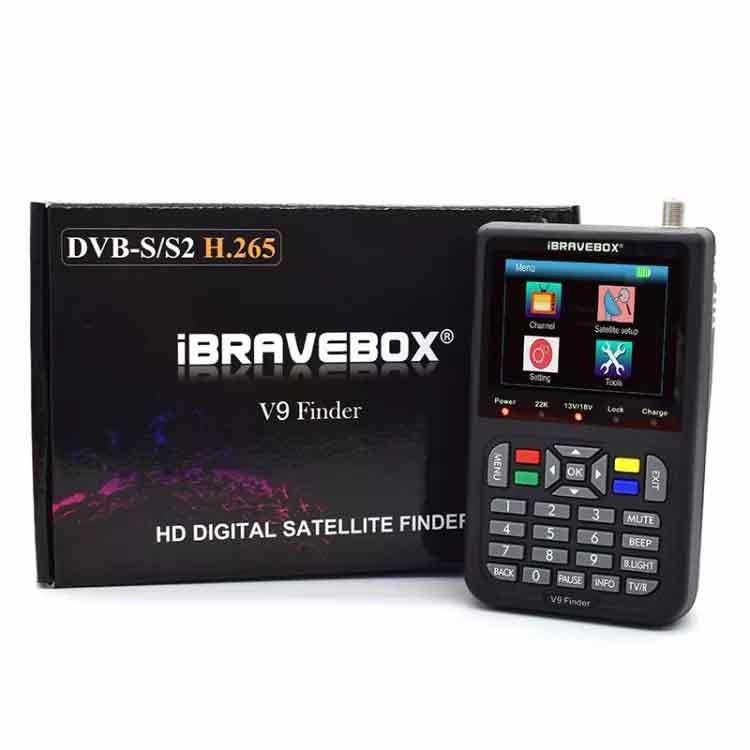 iBRAVEBOX V9 Finder HD Digital Satellite Finder DVB-S/S2 H.265 Signal Meter