Description
DN-817 Aroma Diffuser With Remote Control Air Humidifier LED Night Light – White
Do you need a humidifier?
Create the ideal indoor humidity, care for your family's health
Relaxation and sleep
Keep one at the office to help you relax on your lunch break. Set one on the bedside table to help your mind and body relax so you can sleep better at night.
Mood elevating
Inspire high spirits during the holidays, set a positive atmosphere for business meetings and social gatherings, help you get moving on a slow morning, or even create a romantic atmosphere for that special someone in your life.
Helps you breathe easier
Essential oils are great for reducing inflammation and congestion in clogged airways to help you breathe more easily, such as peppermint, rosemary, lemon, eucalyptus.
Main Features:
– Not only an aroma diffuser and air humidifier, but a night light, helpful to those who scared of the dark at bedtime
– Vase-like design makes it look like an elegant artwork
– Natural wood grain surface, which gives you a fresh and pleasant feeling
–Smart atomizer – turn off automatically when it runs out of water, safe to use
–Runs whisper quiet, you can't even feel its presence
– Made of non-toxic and harmless material, healthy and eco-friendly
– Can be applied to various situations, such as home, office, gym, yoga studio, baby room, etc.
Parameters:
– Capacity: 500ml
– Remote control distance: about 5m
– Mist spray mode: normal, ocean mist
– Adjustable mist spray volume: high – 45ml / h, middle – 27ml / h, low – 19ml / h
– Time mode: 60 minutes, 120 minutes, INT (interval time is about15 seconds), on
– LED light color: red, orange, yellow, green, blue, indigo, purple. The brightness of the light color can be adjusted
– LED light mode: color-changing, steady, off
– Materials: PP
– Power input / output: 100 – 240V 50 – 60Hz 0.6A ( max ) / 24V 0.65A
– Cable length: about 130cm / 1.3m
– About the controller: 21g, 7.2 x 4.7 x 1cm, built-in 1 x 3V CR2025 lithium battery
Using Tips:
1. Press the TIMER button and choose the time you need (60 minutes, 120 minutes, INT – intermittent spray, ON – continuous spray)
2. Press the MIST button to adjust mist spray volume (high, middle, low, off)
3. Press the LIGHT button once to turn on the light ( color-changing mode ), twice to turn on the steady color mode, and three times to turn it off
4. Press the + / – to adjust the LED light color and brightness
5. Spraying will take up to 10 minutes to reach full output, and spray volume will vary from different indoor temperature and humidity
Specification
Dimensions and Weight

Product weight: 0.4560 kg

Package weight: 0.7270 kg

Product Size(L x W x H): 21.50 x 16.40 x 9.50 cm / 8.46 x 6.46 x 3.74 inches

Package Size(L x W x H): 23.50 x 17.60 x 10.20 cm / 9.25 x 6.93 x 4.02 inches

Package Contents

Air Humidifier  Aroma Diffuser LED Night Light

Remote Control

English User Manual for Air Humidifier
Note: Must not add water over 500ml, within 450ml is better
DN-817 500ml aroma diffuser

LED Light

7 changing color led light

100-240V 50/60hZ

DC245V/0.65A

500ML essential oil diffuser

25-80ml/H

safe PP, BPA free

IR Remote Control and touch button

1. IR Remote Control(mist/timer/light control)

2. Two mist modes: ordinary straight mist and could mist

3.500ml large capacity water tank

4. Color changing LED light(colorful, fix one color, warm color)

5. Timer setting(60/120/INT/ON) INT: intermittent–15s working,15s stop, a rotative course.

6. Anti-dry protection system, Auto-shutoff without water

7. Unique Super Silence Function
DN-817 Aroma Diffuser With Remote Control Air Humidifier LED Night Light – White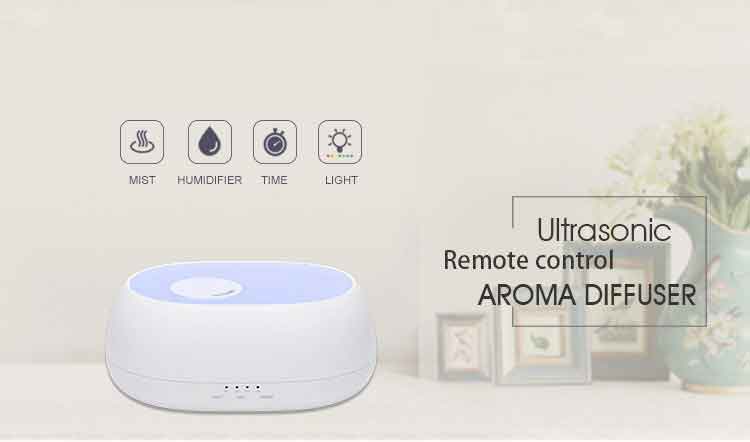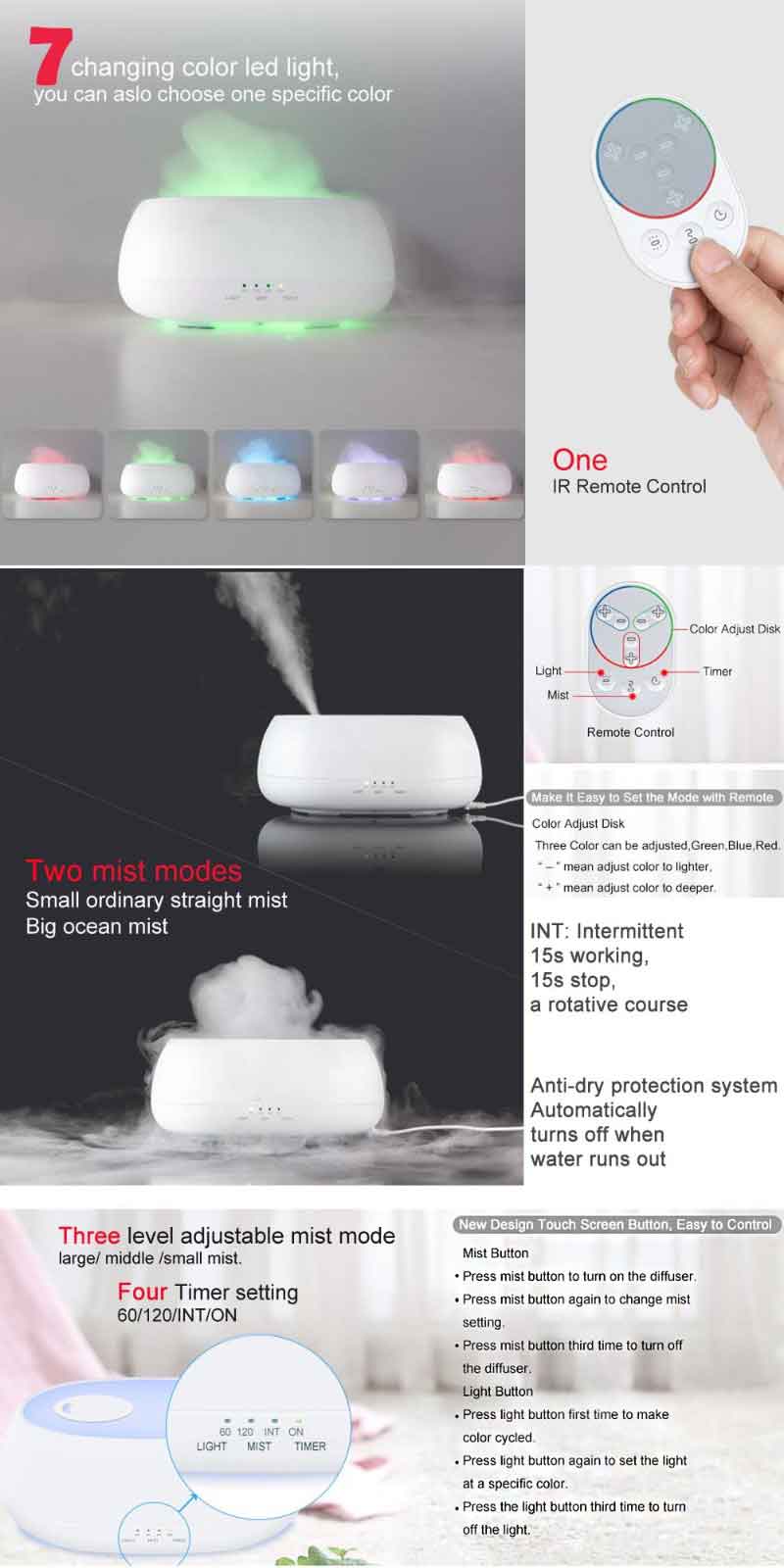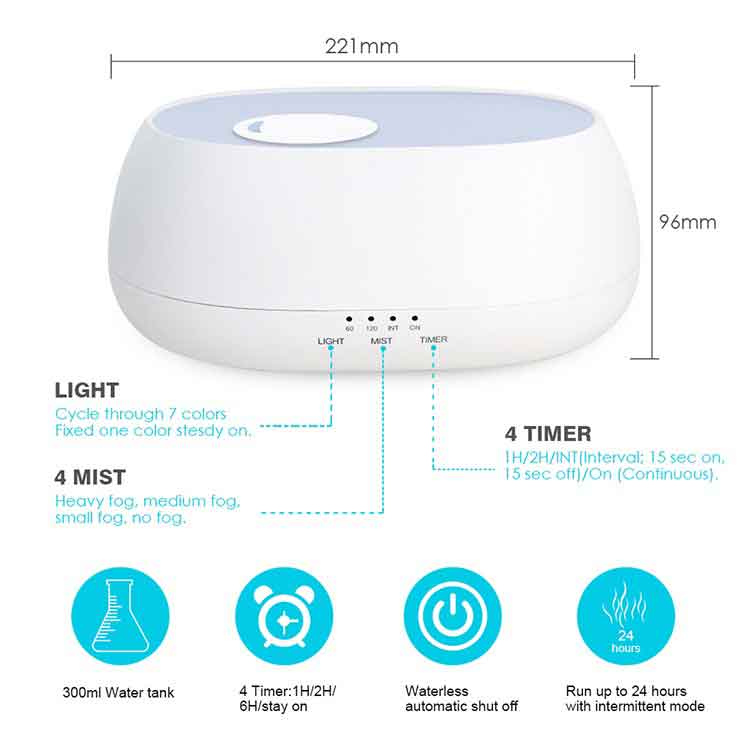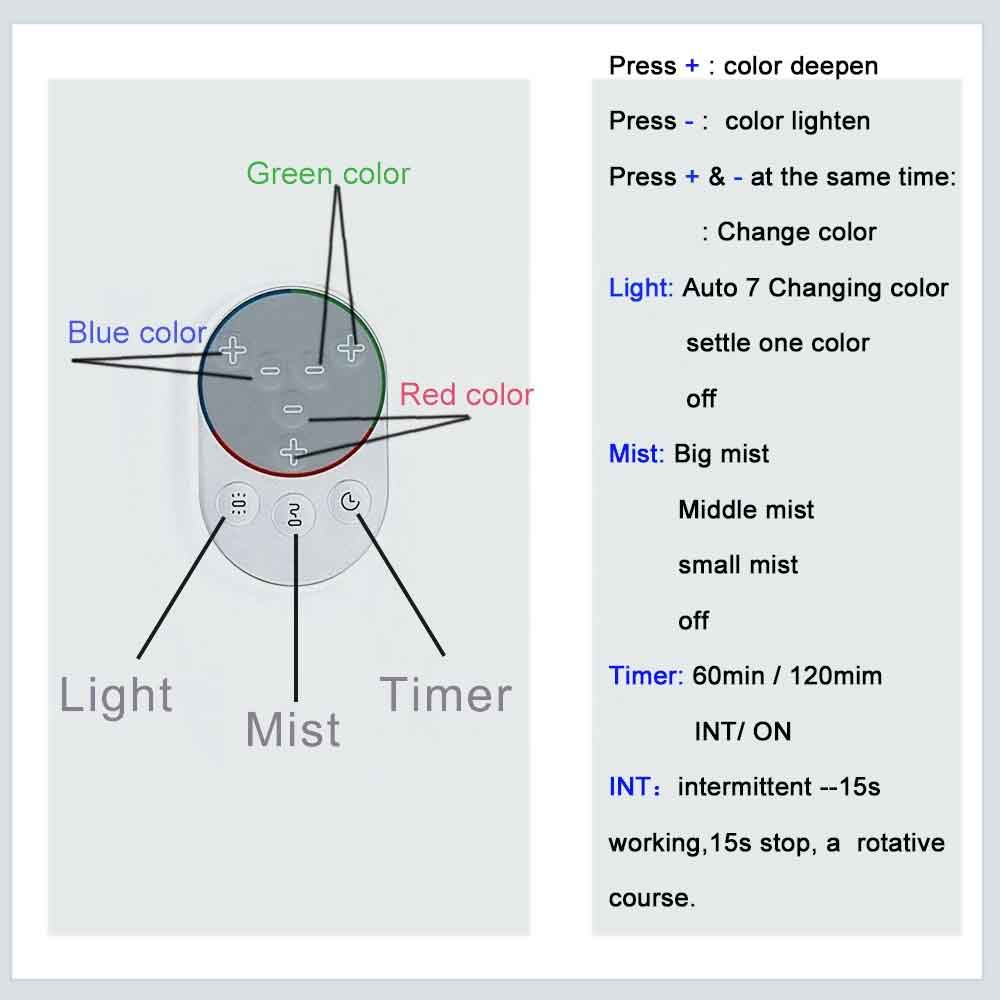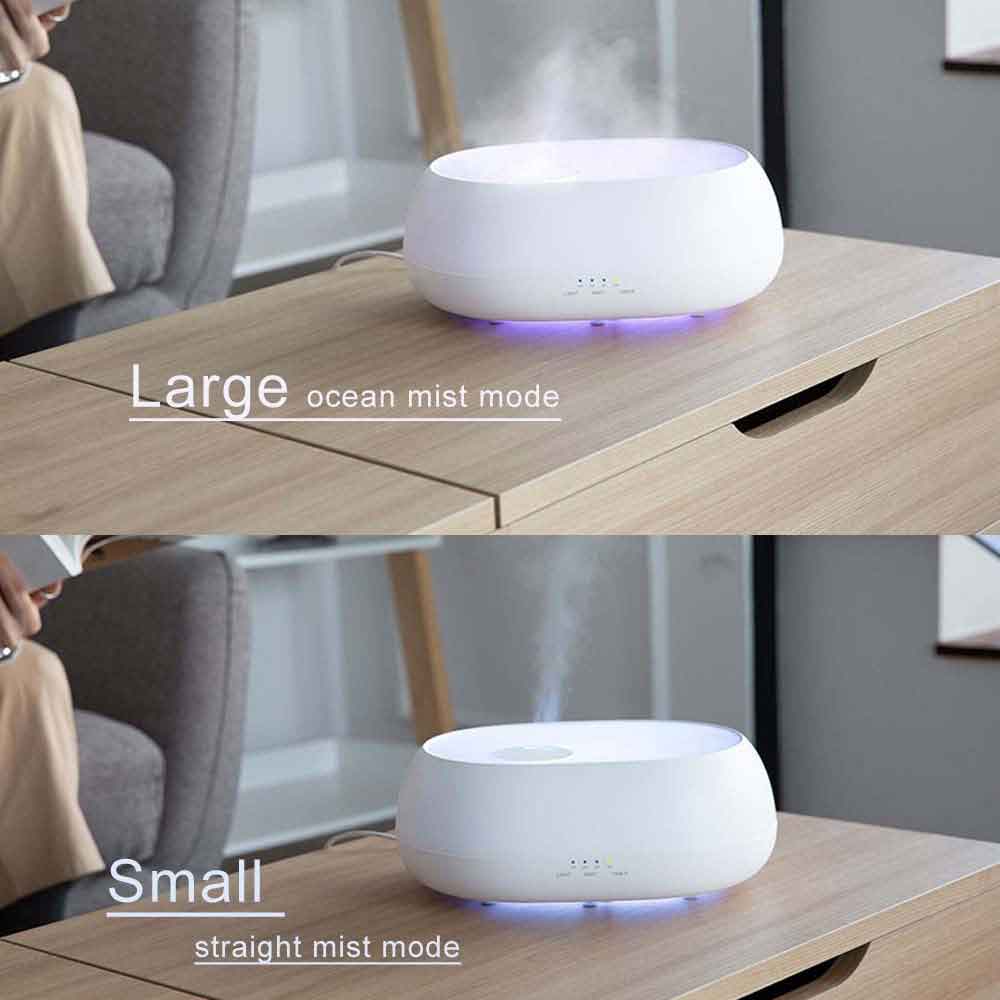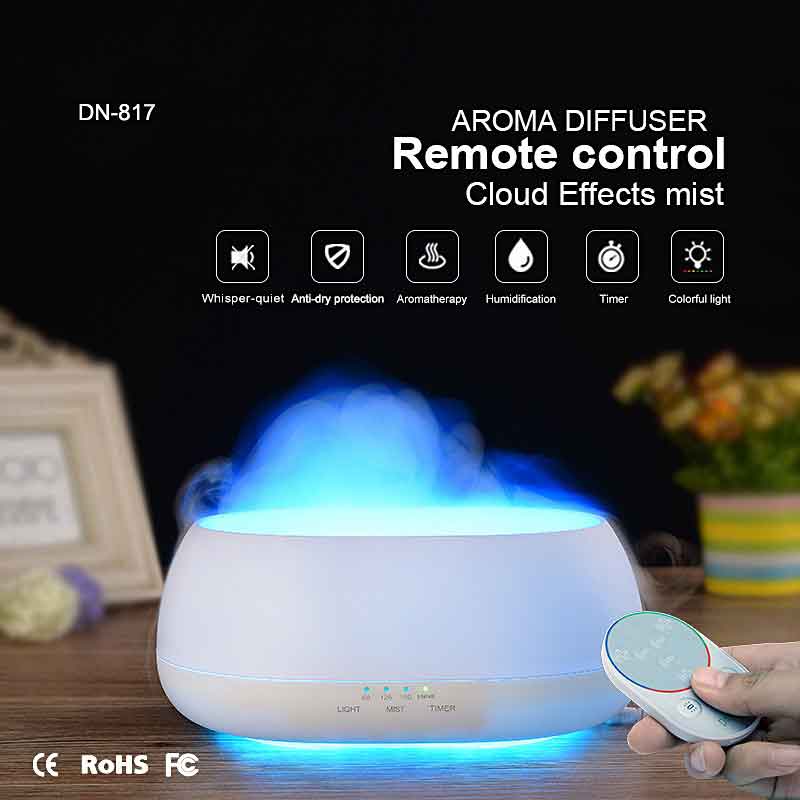 DN-817 Aroma Diffuser Air Humidifier With Remote Control – White